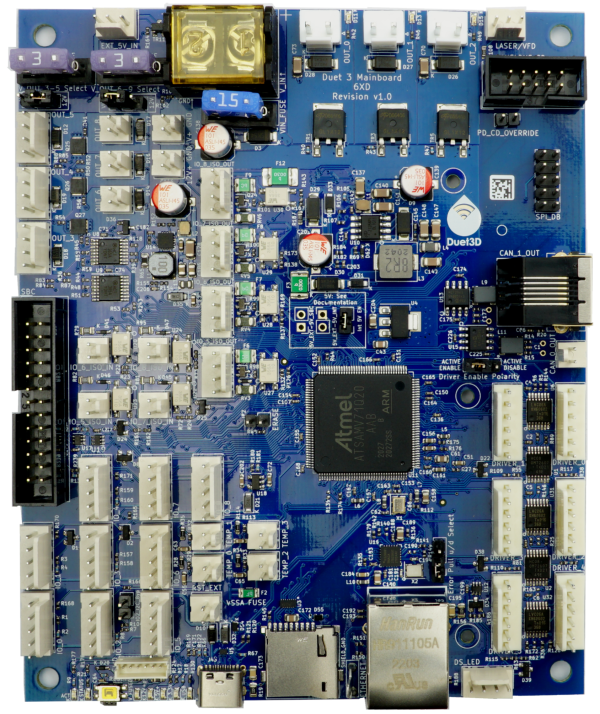 Congratulations on your new Duet 3 Mainboard 6XD! This page will guide you through getting connected, updating firmware, setting up initial configuration.
First, read the warnings! See Warnings, Fire safety and USB ground loops for precautions you must take.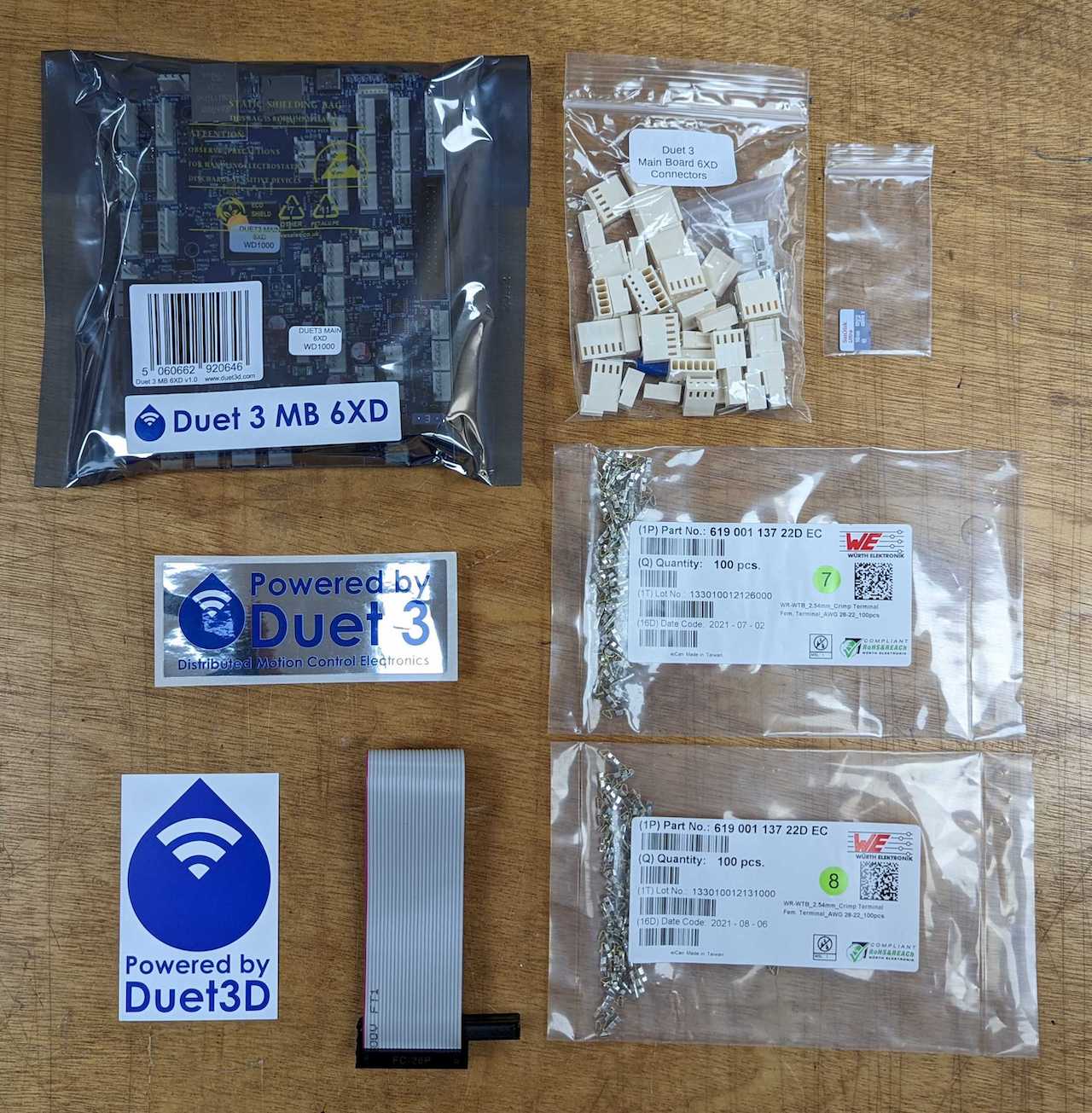 1 x Duet 3 Mainboard 6XD
1 x Connector kit, including:

Würth Elektronic WR-WTB series connectors (Molex-KK compatible)
Fork crimps for power input and bed heater
JST VH connectors and crimps for hotend heaters.
Plastic washers for isolation when mounting.

200 x crimps for connectors (Molex-KK compatible)
1 x micro SD Card
1 x 26/40 Single Board Computer (SBC) ribbon cable
¶ Standalone mode vs SBC mode
The Duet 3 Mainboard 6XD is designed to either be directly connected to a network, or to connect to a Single Board Computer (SBC) like a Raspberry Pi. All standard printer functions, different kinematics, the network UI (Duet Web Control) etc work in both modes.
SBC mode allows part of the functionality to be handled by the SBC. This offers a number of benefits:
Faster network transfer speeds
Support of plugins requiring more than RRF/DWC
Usage of external HDMI or DSI screens
Easy software and firmware update via package manager
Optional webcam integration
Optional HTTPS support
With Raspberry Pi (SBC)
Standalone mode (no SBC)
Duet 3 Mainboard 6XD
Raspberry Pi or other compatible Single Board Computer (SBC). Currently this has to be Model 3B or 4; other models may be supported in the future.
Ribbon cable to connect the Raspberry Pi to the Duet. A 26-pin to 40-pin ribbon cable is supplied with the board. Recommended length is 100 to 200mm. Longer cables will degrade the SPI signal between the Raspberry Pi and the Duet, however it may be still possible to drive them either at reduced SPI transfer speeds or with extra shielding against external EMI sources (foil wrap)
Power supply (min. 12V. max 30V, recommended 24V) and cables
External stepper drivers, stepper motors, heaters, thermistors, endstop switches etc. as required
Supplied SD card with Duet Pi image in the Raspberry Pi
No SD card in the Duet 3
Duet 3 Mainboard 6XD
Power supply (min. 12V. max 30V, recommended 24V) and cables
External stepper drivers, stepper motors, heaters, thermistors, endstop switches etc. as required
Supplied SD card in the Duet 3
Duet 3 expansion board(s) and/or tool boards
RJ11 twisted pair cables to connect the expansion board(s). When connecting a Duet 3 main board to an expansion board, or connecting two expansion boards together, the cable wiring must be straight-through. Only a single twisted pair is required, connected to pins 3 and 4 (the middle 2 pins) of the connector. There are pins on the Duet 3 mainboard for the secondary CAN bus, but the firmware does not use this yet.
2-core red/black cable to daisy chain power to the expansion board(s)
Running with SBC
Running in standalone mode
Here is a photo showing a Duet 3 Mainboard 6XD and Raspberry Pi 3B+ connected. Caution! Note the orientation of the 40-pin ribbon cable. The connector on the Raspberry Pi is not keyed, so be very careful to connect the ribbon cable the right way round and in the correct position.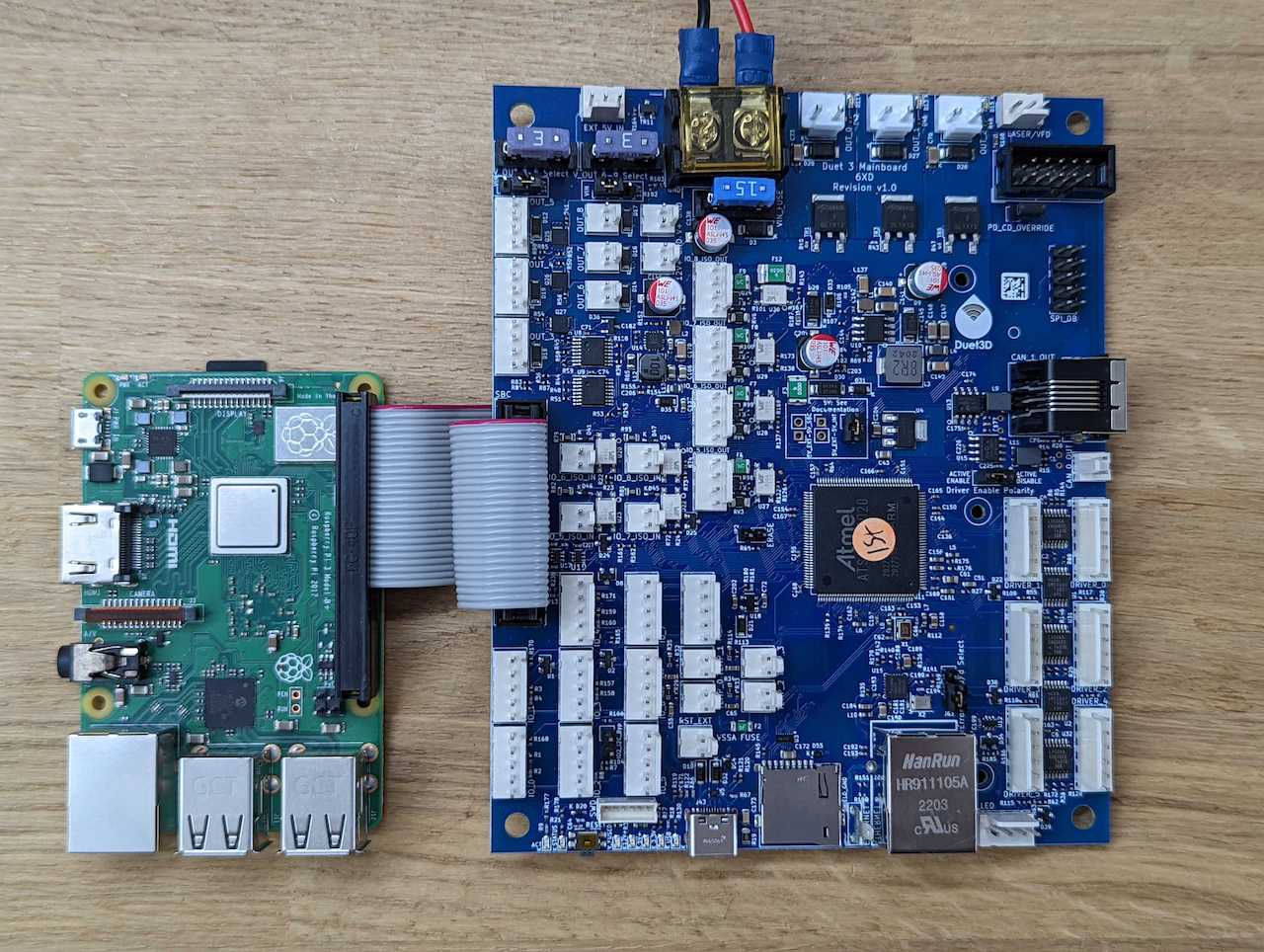 Put the SD card in the SBC, connect the ribbon cable to the Duet 3, and connect a USB cable to the Duet 3 for power. Ensure there is NO SD card in the Duet itself.
Note the orientation of the red stripe on the ribbon cable indicating pin 1.
Ensure the USB supply is sufficient to power the peripherals attached to the Pi, especially screens that do not have a separate power supply. See here for more details on 5v power jumper position selection.
Using a Pi4 may require a separate power supply for both the Duet and Pi4 due to power draw. The same holds true if using peripherals that draw power via USB.
Once physically connected, see the SBC Setup for Duet 3 to connect over your network.
Duet 3 Mainboard 6XD have the ability to run without a connected Single Board Computer (SBC), in standalone mode, by inserting a micro SDHC card in the socket on the Duet and using the local Ethernet port to connect to your router.
An SD card is supplied with the Duet 3 mainboard. Duet 3 boards have a dual-format image, with a FAT32 partition and the files to start the Duet 3 in standalone mode, and a partition with the files to boot a connected Raspberry Pi.
To run the Duet 3 in standalone mode, the SD card must be formatted correctly and be populated with configuration files, homing files and web server files; see SD Card for details on the SD Card contents. The board will run in standalone mode if the SD card is present and contains a sys/config.g file; otherwise it will wait to be contacted by the Raspberry Pi or other single board computer.
You may find it easiest to initially setup the Duet 3 using a USB cable (USB A to USB C). Make sure the USB cable is capable of carrying power AND data; some USB cables are power-only. Then follow the guide here: Getting connected to your Duet.
After following this guide, you should be able to connect to your Duet 3 over your network, and connect to the Duet Web Console (DWC).
The Duet Web Control user interface is the best way to control your Duet. A comprehensive manual is here: Duet Web Control Manual
So far, the Duet is not configured for your machine. Use the RepRapFirmware Configuration Tool to produce a set of files as a zip file to upload to the Duet. Upload the zip file (no need to extract the files) to the Duet using Duet Web Control, by going to System > Upload System Files. For more information, see Duet Web Control Manual
See the Wiring your Duet 3 for a basic guide to wiring.
See the Connecting hardware section of the User manual for choosing, connecting and testing individual components.
See here for the Duet 3 Mainboard 6XD Wiring Diagram
The Duet 3 Mainboard 6XD supports directly connecting external stepper drivers that have opto-isolated or similar inputs. The Step, Dir and Enable outputs from the 6XD are either low (when "on") or floating/high impedence when "off". To connect a Pololu/StepStick/similar driver to the 6XD a 10K pullup resistor is needed from the Step/Dir/En lines to +5V.
This diagram shows connection to a "typical" optoisolated stepper motor driver
A PanelDue can be connected to connector IO_0 using a 4-core cable wired like this.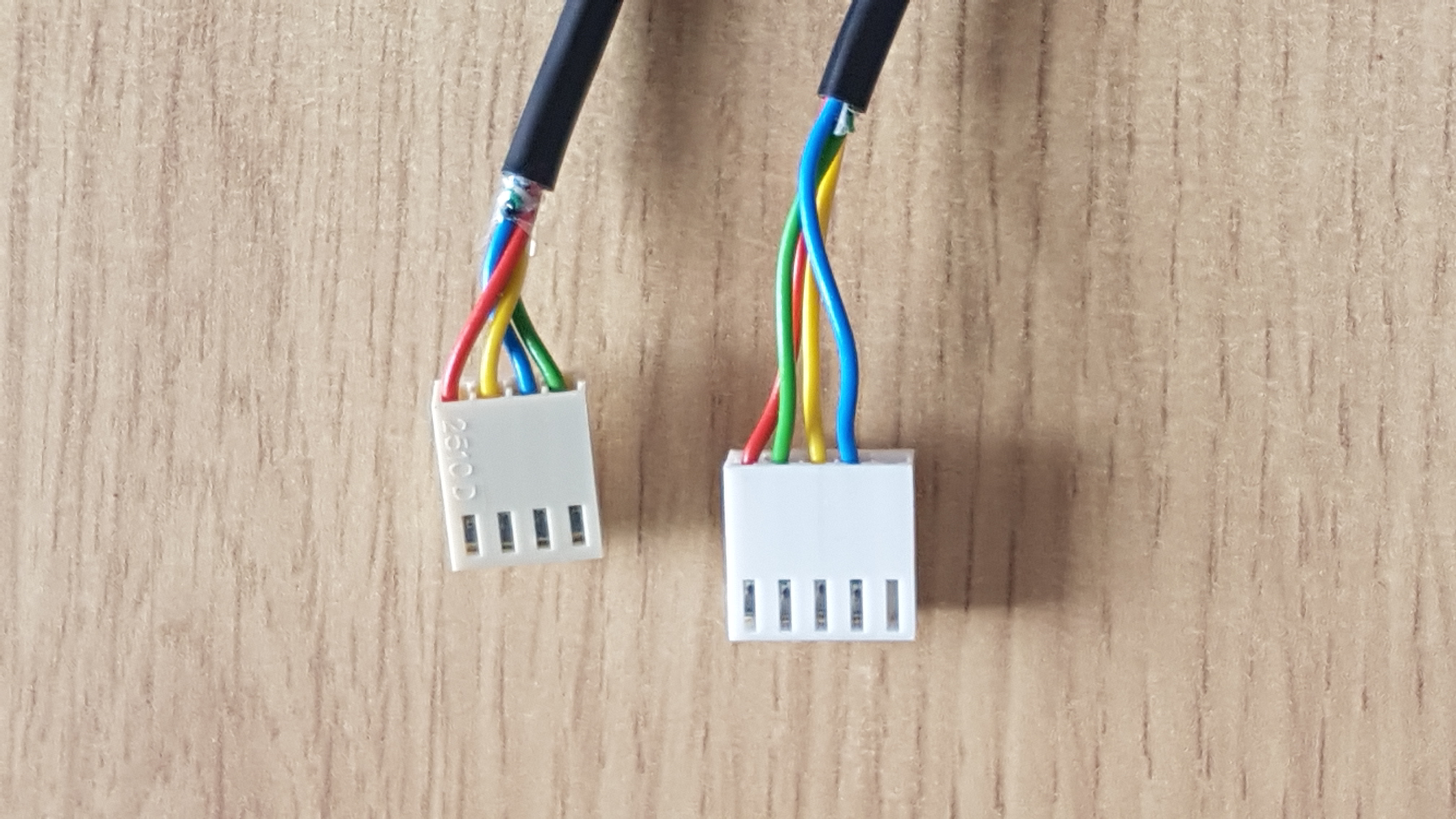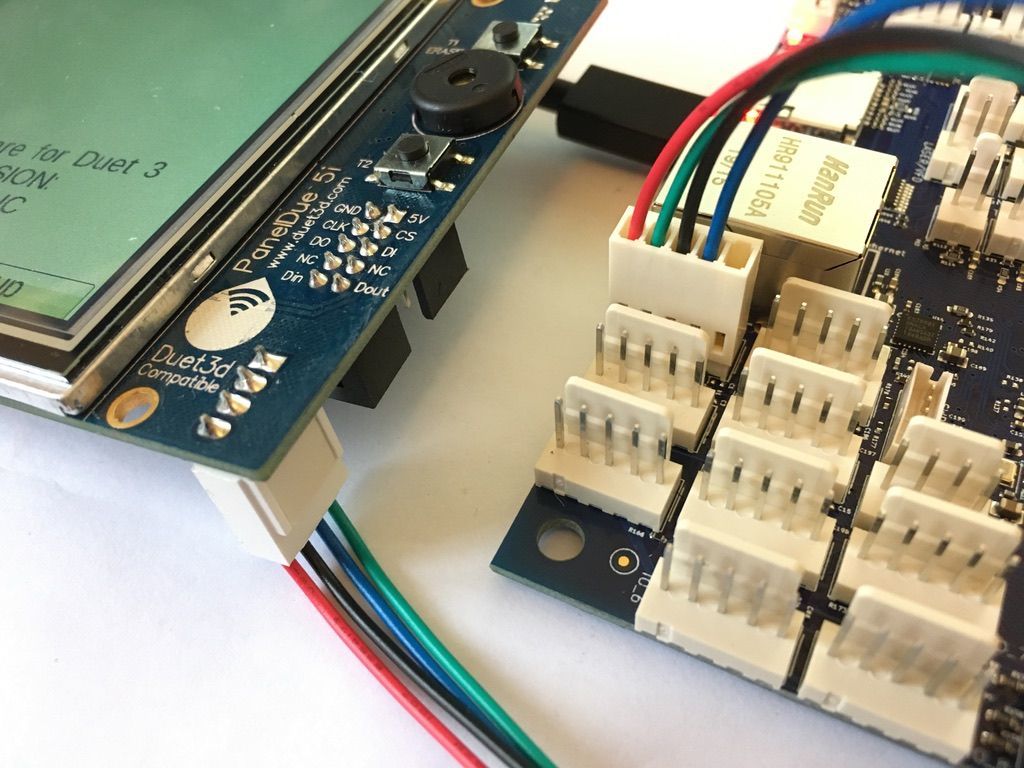 Include M575 P1 B57600 S1 in your config.g to enable the PanelDue.
See Connecting a PanelDue for more information.
Additional expansion boards add further functionality to your Duet 3 mainboard. These are connected by CAN bus. For an overview of connecting these, see CAN connection basics.
If you connect one or more expansion boards via CAN (as shown in the earlier photo), you must install the two CAN termination jumpers on the last board in the chain, but not on any additional boards in the middle of the chain.
For a list of expansion boards that can be connect to a Duet 3 mainboard, see the 'CAN expansion' section of the Duet 3 family page.
Please use the forum to report any issues: https://forum.duet3d.com/